GraniteNet Software
Platform for GIS Professionals
Software Platform for GIS Professionals
Typically, every morning inspectors go out to perform various types of inspection tasks against assets whether they're strategic such as large diameter pipelines or more mundane such as performing routine cleanings or oil changes. Regardless of the asset, GIS professionals make it easier for people to track, find and make critical decisions about assets by visualizing them in maps for all to see. Planning the tasks, routing the personnel and the appropriate equipment, updating asset information with changes, exposing condition scores and creating symbology are all made possible by GIS professionals.

The GraniteNet platform is architected on the concept that each asset is unique and has its own lifespan. The software captures and retains the history about an asset to allow people to assess condition over time, often with video and other sensor data to compare the present with the past to allow people to make sensible projections about the future, and ultimately the end-of-life of that asset which will need to be replaced.

As a software development partner with the leading GIS software provider in the world: ESRI, the GraniteNet platform is fully integrated with ESRI's ArcGIS technology. As a result, GraniteNet can work with online or offline maps and has seamless interactions with ESRI ArcGIS file formats (geodatabases, shape files, etc.). Unlike many other software vendors, GraniteNet provides a seamless, bidirectional integration between the GraniteNet database and the GIS database. Asset attribute information can be imported to GraniteNet, verified and/or modified during the inspection process, and then exported back to GIS to support a perpetually updated asset management program.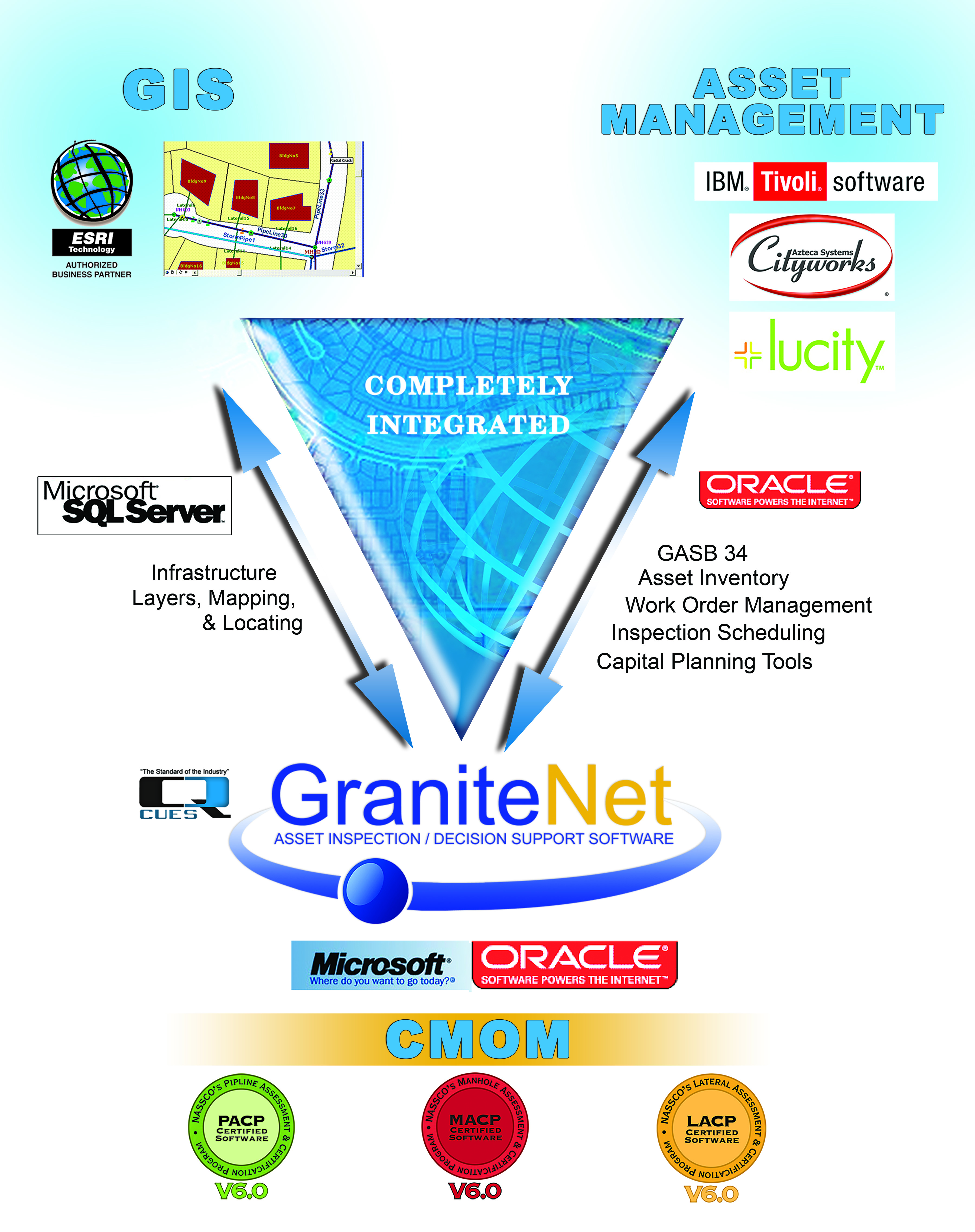 GraniteNet facilitates linear referencing (seeing defect information in maps) by moving assessment observations to assets within the map to allow planners to generate rehabilitation or replacement plans against a collection of assets. For example, a filter can be set to identify all stormwater pipeline inspections completed last week which contained the "debris" observation code. The set of filtered results can then be grouped into a project within GraniteNet and assigned to the Cleaning Department to remove the debris. Using GraniteNet, the cleaning crews can quickly navigate to the assets using the map. Once the work is completed using GraniteNet, the "cleaned" status is easily updated on the map for each asset which in turn can then allow the same project to be re-selected by the Stormwater Department to schedule CCTV video inspections of the cleaned pipelines using GraniteNet to maximize efficiency and productivity. And next an additional filter can be set to identify all video inspections performed using GraniteNet last week which require immediate Engineering Department attention due to a critical observation or failing Score value to proactively repair or replace based on the severity or the consequence of the failure.

GIS integrated to the GraniteNet platform unifies all the specific asset attribute information across the utility and each task performed on an asset is auto populated with predefined GIS domain values and as a result, the precision saves a tremendous amount of time with respect to field data entry, nearly eliminates typographic errors or misidentification of assets and the correct inspections against them, and saves the administrative burden required to repair cascading errors that may have affected other strategic software applications connected to GIS. GraniteNet transforms how proactive condition assessment for asset management gets done, and with map integration, superior Capital Improvement project planning and decision making can be done transparently backed by data-driven, verifiable conclusions.
Some of the application products that may be useful to meet your needs are:
Some of the features of these products that may be of interest to you are:
Read More About the Entire Family of GraniteNet Applications
Interested in Learning More?

ABOUT US
CONTACT US
CUES is a multifaceted organization engaged in robotic R&D, new product design and engineering, hardware manufacturing, vehicle assembly, software engineering, professional services consulting, sales, training and dedicated customer support. The company has evolved, driven by the needs of its customers who demand to have one, responsive company be the focal point for all of their wastewater, stormwater, and water management needs.
3600 Rio Vista Avenue, Orlando, Florida 32805
Phone: (407) 849-0190
Toll Free: (800) 327-7791
Fax: (407) 425-1569
Email: salesinfo@cuesinc.com
OUR PARTNERS