Below The Surface
Answers That Go Deeper
Uncovering Hidden Issues
Common Problems Found During Sewer Inspections
In our line of work, we expect the unexpected when we head underground for a sewer inspection. Everyone in our industry has a story of finding something they shouldn't in a sewer or storm drain: mounds of congealed grease, islands of "flushable" wipes, even alligators that outgrew their status as pets.
But the real horrors that lurk below the surface have a different set of teeth. Cracks, leaks, faults— the mundane lies in waiting to cause a disastrous pipe failure.
The most common problems found underground can only be identified through regular inspection. Sewer inspections provide certainty about a pipe's state of repair: whether it's in good condition, in need of repair, or in need of complete replacement.
Municipalities often tell us they're too cash-strapped or under-equipped to regularly inspect their sanitary and stormwater systems. For years, we've equipped our customers with the knowledge they need underground to identify minor faults through regular inspection.
A little knowledge goes a long way—especially for your budget. We've compiled a list of common problems our customers see underground to get you started.
What's happening underground?
In sewer and stormwater systems, things are great until they're not. Regular sewer inspection is the key to identifying unseen problems before they become untimely headaches. Here are the most common problems our customers are finding underground: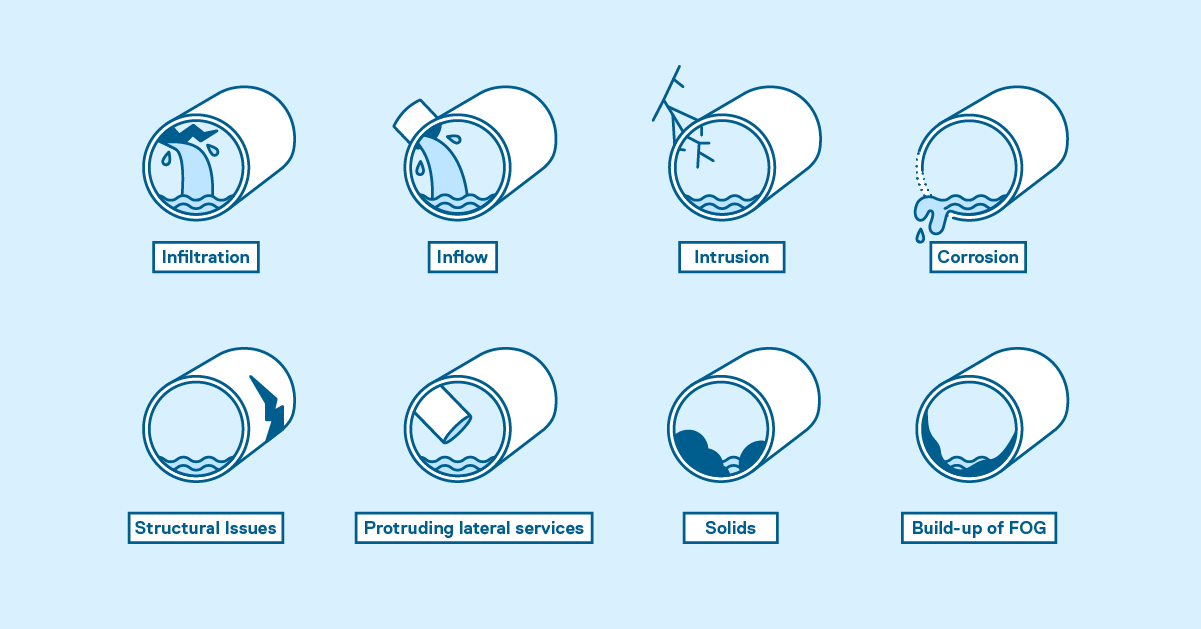 Infiltration, as water seeps into a system through a crack, leak, or fault in a pipe
Inflow, an increased flow of water as a result of unplanned or unauthorized tapping of sewer lines
Intrusion of tree roots that cut or disrupt a pipe's placement
Corrosion of pipe walls as a result of hydrogen sulfide build-up
Structural issues with a pipe system as a result of poor construction or inadequate engineering
Protruding lateral services that reduce line capacity or cause blockage
Solids in the pipe that settle in place, causing obstruction and/or blockage
Build-up of FOG: fats, oils, and grease

The most common objection to regular sewer inspection is the added cost to the municipality's bottom line. Without regular inspection, however, any of these hidden issues will pose a similar threat to a balanced budget. Any municipality that forgoes an active inspection program to save a few bucks is spending their capital blindly—either by ignoring regular maintenance altogether, or doing maintenance without the right data to inform its effectiveness. Further still, ignoring regular inspection of your entire system undervalues that system, which poses problems generating sufficient capital to repair, maintain, and improve your system.
The Data-Driven Next Step
Take our word for it: regular sewer inspection will boost your bottom line. Once you unlock the value provided by regular inspection, we'll be here to take you even further.
We've been helping our customers inspect and repair sewer lines for more than 60 years. We've developed products that make inspection faster, easier and more cost effective. Working closely with our customers, we've seen amazing progress in the number of municipalities that recognize the importance of regular sewer inspections.
There's real growth in system knowledge that we can all be proud of. But we're ready to help every municipality do even better. We work every day to make sure that every municipality has a solution that fits their needs—from a wide variety of inspection tools, to camera trucks to make field work easier, to software that helps manage all the data. We're here to help you go the distance.