CUES Tips and Maintenance Suggestions Poster
Tips and Maintenance Poster
Given that CUES equipment is designed and manufactured to operate in some of the worst conditions possible, regular maintenance is a MUST. We sat down with our customer service team and put together our top tips and suggestions for maintaining your CUES products to ensure they will GO THE DISTANCE!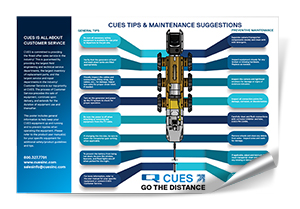 This 36" x 24" poster is perfect for your office, sewer truck or shop.
Request your FREE poster today!
*Mailed to U.S. and Canadian address only